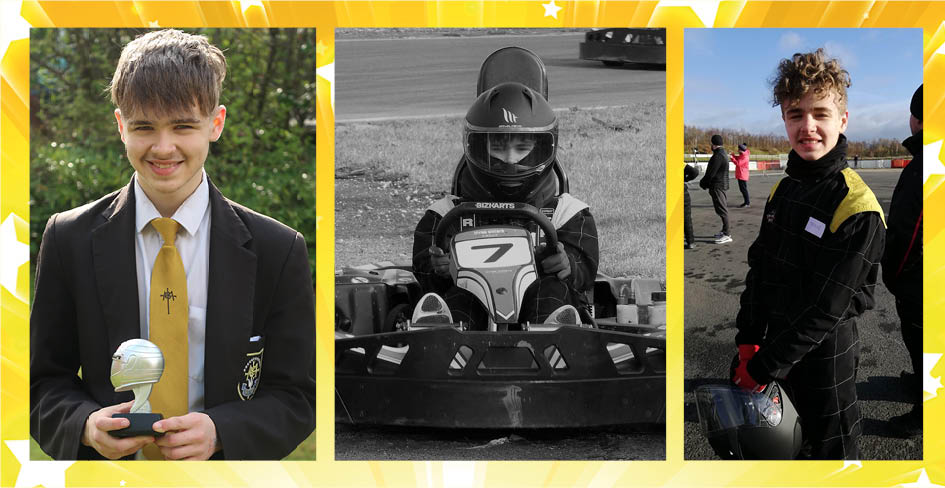 Mount Carmel R.C. High School in Accrington Lancashire Year 11 pupil Taylor Laskowski has an ambition to become a F1 racing driver and is determined to prove that he can get involved despite it being an expensive sport. He says "I am ready for the hard work, discipline and commitment."
Taylor has grown up being involved with cars and wanted to get involved in rallying until the Covid lockdown last year when he spent a lot of time competing online in races with F1 e-sports team TRTE Sport. After qualifying for this team he raced alongside F1 drivers including Lando Norris, Charles Leclerc and Pierre Gasly. Taylor's favourite drivers are Lando Norris and Daniel Ricciardo who he admires as they are the happiest drivers on the grid.
After this successful stint in e-racing Taylor was invited to drive for Red Bull Racing during the 2021 e-sports season. Taylor would really like to drive F1 for Red Bull in the future.
Taylor's parents are fully behind helping Taylor reach his dream and have launched a crowd funding campaign to help fund some of the costs. His honest, emotional appeal on social media for part time work to help fund his ambition has already paid off with him accepting the offer of two jobs. Taylor is also planning on going to Myerscough College in September to study Motor Sport Engineering and plans to continue with a course after that at university studying Motor Sport.
Taylor's initial aim is to get a racing kart so he can compete in races, he also needs transport for the kart, racing boots, safety clothing, his ARKS racing licence and costs towards competing and travelling. His Go Fund Me page has a target of £5,000 which he hopes can be reached.
To help Taylor donations can be made via his Go Fund Me page using this link https://gofund.me/c822ada2
Read this honest statement from Taylor;
"My parents have always been there to help me with my dream to be a F1 driver and I know how much it has already, and keeps on costing them to help get me to my dream. It's not a cheap sport to get into, they often ask 'why couldn't you be like your brother and like football £3 subs and jobs a good one'! but we all have our dreams.
I'm not a teenager who expects all this. I know things come with time and hopefully sponsorship. I'm just trying to show why I am asking for help. I did a lot of talking with my parents before doing this as it is something we wouldn't have thought about, but all I can do is try to get help towards achieving my dream.
This is the reason I wanted to get a job. My parents have always done whatever they can to enable me to start this journey, and will continue to do so. I come from a normal hard working northern family, and I understand there is only so much they can afford to do.
I am overwhelmed with the offers of support I have received already and want to thank everyone for helping me towards the goal of reaching my dream as I leave school ready to take the next step into my future."
To help Taylor donations can be made via his Go Fund Me page using this link https://gofund.me/c822ada2